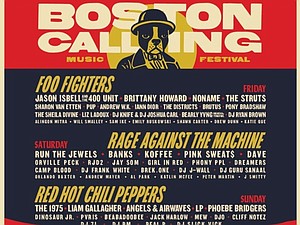 Este martes se confirmaron las bandas que participarán en el 11º festival anual Boston Calling, que tendrá lugar el fin de semana del Memorial Day en el Complejo Atlético de Harvard en Allston.
En esta oportunidad los asistentes disfrutarán de las presentaciones Rage Against The Machine, Foo Fighters y Red Hot Chili Peppers, según anunciaron el martes los organizadores del festival musical.
También participarán varios artistas locales.
Se esperan al menos unas 19 presentaciones, que van desde Dinosaur Jr., a PVRIS, The Shelia Divine y Camp Blood.
Puede que también noten que los organizadores del festival invitaron a Cliff Notez de Boston. El artista multifacético que organizó su propio festival de música en Dorchester y que llamó "Boston Answering".
Este año se incluyen varios DJs y comediantes.
Tickets
Podrán adquirir los pases generales de tres días a través de www.BostonCalling.com a $399,99. Mientras que los VIP costarán $949,99 y los platino en $1.999,99 dólares.
Presentaciones para el Viernes 22 de mayo
Foo Fighters
Jason Isbell and The 400 Unit
Brittany Howard
Noname
The Struts
Sharon Van Etten
PUPAndrew W.K.
Iann Dior
The Districts
Brutus
Pony Bradshaw
The Sheila Divine
DJs
Liz Ladoux
DJ Knife & DJ Joshua Carl
Bearly Yvng (Big Bear & YVNG PAVL)
DJ Ryan Brown
Comediantes
Alingon Mitra
Will Smalley
Sam Ike
Emily Ruskowski
Shawn Carter
Drew Dunn
Katie Que
Presentaciones para el Sábado 23 de mayo
Rage Against The Machine
Run The Jewels
Banks
Koffee
Pink Sweat$
Dave
Orville Peck
RJD2
Jay Som
Girl in Red
Phony Ppl
Dreamers
Camp Blood
DJs
DJ Frank White
BREK.ONE
DJ J-Wall
DJ Guru Sanaal
Comediantes
Orlando Baxter
Andrew Mayer
Al Park
Katlin McFee
Peter Martin
J Smitty
Presentaciones para el Domingo 24 de mayo
Red Hot Chili Peppers
The 1975
Liam Gallagher
Angels & Airwaves
LP
Phoebe Bridgers
Dinosaur Jr.
PVRIS
Beabadoobee
Jack Harlow
Mew
Djo
Cliff Notez
DJs
DJ 7L
DJ RM
ReaL P
DJ Slick Vick
Comediantes
Lamont Price
Hanna Evensen
Sean Sullivan
Jason Cordova
Will Noonan
Tooky Kavanagh
Con información de Patch