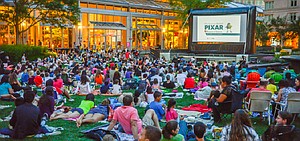 Cuando mejora el clima, el cine también se traslada a las calles. El Planeta te trae una completa lista de lugares donde se estarán proyectando películas para todos los gustos y edades, entre los meses de junio y septiembre.
Todas las funciones son al atardecer.
1."Summer in the City" en Boston Harbor Hotel
70 Rowes Wharf, Boston, 617-439-7000
Funciones todos los viernes entre junio y septiembre
Viernes 22 de junio: It Happened One Night
Viernes 29 de junio; Grease
Viernes 6 de julio: Field of Dreams
Viernes 13 de julio: The Lion King
Viernes 20 de julio: Splash
Viernes 27 de julio: Wizard of Oz
Viernes 3 de agosto: Breakfast at Tiffany's
Viernes 10 de agosto: The Karate Kid
Viernes 17 de agosto: Hook
Viernes 24 de agosto: Dr. No
Viernes 31 de agosto: Out of Africa
---
2.Magic 106.7 Family Film Festival
South Garden, Prudential Center, 800 Boylston Street, Boston, MA 02199
Funciones todos los sábados de julio y agosto
Sábado 7 de julio: The Lion King
Sábado 14 de julio: SING!
Sábado 21 de julio: Coco
Sábado 28 de julio: Wonder
Sábado 4 de agosto: The Incredibles
Sábado 11 de agosto: Mulan
Sábado 18 de agosto: Tarzan
Sábado 25 de agosto: A Wrinkle in Time
---
3."Free Friday Flicks" en DCR's Hatch Shell
DCR's Hatch Shell
Funciones los viernes
Viernes 22 de junio: Despicable Me 3
Viernes 13 de julio: Emoji Movie
Viernes 20 de julio: Elf
Viernes 27 de julio: Cars 3
Viernes 3 de agosto: Jumanji: Welcome to the Jungle
Viernes 10 de agosto: Coco
Viernes 17 de agosto: Beauty and The Beast
Viernes 24 de agosto: Thor: Ragnarok
---
4."Theatre Thursdays" con Revere Recreation
Kellys Roast Beef (410 Revere Beach Blvd) y William G. Reinstein Bandstand (Revere Beach)
5 de julio: Hocus Pocus (Kelly's Roast Beef)
12 de julio: Lion King (William G. Reinstein Bandstand)
19 de julio: Back to the Future (Kelly's Roast Beef)
26 de julio: Coco (William G. Reinstein Bandstand)
2 de agosto: Moana (Kelly's Roast Beef)
9 de agosto: Thor: Ragnarok (William G. Reinstein Bandstand)
---
5.Mayor Walsh's Summer Movie Nights
Jueves 2 de agosto: The Nut Job Two (Town Field, Dorchester)
Lunes 6 de agosto: Leap! (Fallon Playground, Roslindale)
Miércoles 8 de agosto: The Lego Ninjago (Ronan Park, Dorchester)
Jueves 9 de agosto: Paddington 2 (Doherty Playground, Charlestown)
Lunes 13 de agosto: Peter Rabbit (Medal of Honor Park, South Boston)
Jueves 16 de agosto: Sing ( Medal of Honor Park, South Boston)
Lunes 20 de agosto: Despicable Me 3 (Hardiman Field, Allston-Brighton)
Martes, 21 de agosto: Cars 3 (Walker Playground, Mattapan)
Jueves 23 de agosto: Coco (Hynes Playground, West Roxbury)
Lunes 27 de agosto: Beauty and the Beast (Brophy Park, East Boston)
Juebes 30 de agosto: The Emoji Movie (Iacono Playground, Hyde Park)
Viernes 7 de septiembre: Black Panther (Frog Pond, Boston Common)
Viernes 21 de septiembre: Karate Kid (Frog Pond, Boston Common)
6."Sunday Night Movies" en Christopher Columbus Park