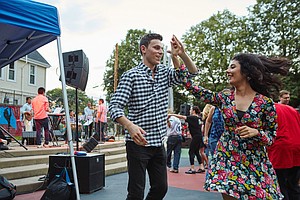 Sábado, 7 de julio. Sábado 7 y domingo 8 de julio. Boston City Hall Plaza. 1 City Hall Square, Boston 02114. Tickets
---
Este sábado se celebrará el 5to Anual Porch Fest en Jamaica Plain, un evento totalmente gratis. Trae tu silla, tu almuerzo, tu hidratación y comparte una tarde de música y comunidad.
Sábado, 7 de julio. 2:30pm. 397 Centre St. JP 02130
---
Summer Block Party en Lawn on D
Vuelve uno de los eventos más populares de 2017, que incluye bubble soccer, ice disco, escalada en roca, pintacaritas y como invitados especiales al grupo Blue Man Group. También habrá disponible lugares para comprar comida y bebidas.
Sábado, 7 de julio. 12:00pm - 11:00pm. The Lawn On D Powered by Citizens Bank, 420 D Street, Boston 02210. GRATIS
---
Para los amantes de los gatos, llega el evento Caturday a Boston. Un día para que los entusiastas de estos felinos intercambien libremente información, amistad y alegría para ayudar a que los gatos estén felices y sanos.
Sábado, 7 de julio. 1:30pm - 4:30pm. Boston Common, Charles St, Boston 02108
---
De regreso para una segunda temporada, Downtown Playdates es una colaboración entre nueve organizaciones que ofrece diversión, juegos y premios para niños de todas las edades. Downtown Playdates se llevará a cabo los sábados de julio y agosto, con actividades programadas entre las 10am y las 6pm.
Únete a la fiesta de inauguración en The Greenway Carousel el 7 de julio. Las actividades especiales se llevarán a cabo de 11 am a 2 pm, con actuaciones de Rosalita's Puppets, un tanque táctil de tidepool del Acuario de Nueva Inglaterra y diversión y juegos con The Greenway y el Boston Harbor Pavillion Welcome Center.
Sábado, 7 de julio. 10:00am. Faneuil Hall Marketplace. 4 South Market Building, Boston 02109.
---
La serie de ejercicios "Boston Summer Fitness Park", que promueve la Alcaldía de Boston, ofrece más de 30 clases gratuitas a la semana en todos los vecindarios de la ciudad.
JUEVES
-Gentle Yoga. 10am. Christopher Columbus Park. North End
-Yoga: 6pm. Boston Common Frog Pond.
-Tai Chi (last class July 26). 10:00 AM. Symphony Park. Fenway
-Yoga. 6:00 PM. Marcella Playground. Roxbury
-Zumba Kids. 6:00 PM. Hunt/Almont Park, Mattapan
VIERNES
-Bootcamp: 6:30 am. Christopher Columbus Park. North End
-Walking Group. 10:00 AM. Moakley Park, South Boston
SÁBADO
-Walking Group. 8:00 AM. Franklin Park, Dorchester
-Yoga. 9:15 AM. Franklin Park, Dorchester
-Yoga. 10:00 AM. Healy Playground, Roslindale
-Bootcamp. 11:00 AM. Almont Park, Mattapan
DOMINGO
-Kids Yoga. 11:00 AM. Jamaica Pond, Jamaica Plain
-Yoga. 12:30 PM, Winthrop Square. Charlestown
-Yoga: 2pm. Jamaica Pond. Pinebank Promontory. Jamaica Plain.
Para ver el horario completo haz click AQUÍ
---
La calle Newbury estará completamente abierta a los peatones este domingo 8 de julio y los días 12 de agosto y 9 de septiembre, y libre de automóviles. Los visitantes tendrán la oportunidad de moverse a la calle o en la acera,y entretenerse con música, juegos y descuentos y ofertas especiales de los negocios locales de la zona.