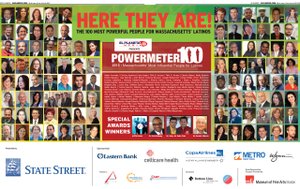 ---
Ortiz, Carmen
United States Attorney for Massachusetts
Carmen M. Ortiz, nominated by President Obama as the United States Attorney for the District of Massachusetts, was confirmed by the U.S. Senate in 2009. She is the first Hispanic and the first woman to represent Massachusetts as U.S. Attorney. As the chief federal law enforcement officer in Massachusetts, Ms. Ortiz supervises the prosecution of all federal crimes including the prosecution of corrupt Massachusetts Speaker of the House Sal DiMasi, gangster James "Whitey" Bulger, and Boston Marathon bomber Dzhokhar Tsarnaev. Additionally, she has led the District to some of the largest civil settlements, including that of health care giant GlaxoSmithKline.
---
Ortiz, David
Baseball Player | Boston Red Sox
David Ortiz, A Dominican- American baseball player. He is a 3-time World Series Champion (2004, 2007, 2013) all with Boston. 2013 World Series MVP. Veteran of 18 Major League Seasons (Minnesota Twins 1997-2002) and Boston Red Sox (2003-present). Ortiz Won the 2011 Roberto Clemente Award (Major League Baseball's highest honor for those who best represent the game of baseball through positive contributions on and off the field). Ortiz created the David Ortiz Children's Fund, a nonprofit organization committed to providing critical pediatric services to children in New England and the Dominican Republic.
---
Piña, Héctor y Nivia
Owners | Merengue & Vejigantes Restaurants
The local restaurateurs Nivia and Héctor Piña have had a great experience in the culinary industry for around 20 years now. Not only does this pair of successful restaurateurs keep their Dominican restaurant, Merengue, thriving in Roxbury since 1994; they also have expanded in the recent years. In 2012 they opened Vejigantes, an establishment in the South End that that serves traditional Puerto Rican food. The couple is well known in the Latino community for their constant collaboration and involvement.
---
Pineda, Lucy
Founder and Director | Latinos United In Massachusetts
Lucy Pineda is a native of El Salvador. She is a leader and social advocate for the Latin Community in the Greater Boston Area. Lucy founded Latinos United in Massachusetts (LUMA) in 2002 and is currently the director of the organization. LUMA defends the rights of every migrant in the community. The organization also provides educational programs such as English as a Second Language, educational forums, history, and civics classes. Lucy is the founder of the Multicultural Festival of Everett.
---
Ramos, Teresita
Attorney and Equal Justice Works fellow | Disability Law Center
At the Disability Law Center, Ms. Ramos work focuses on access to special education for Hispanic children in Massachusetts, especially in Lawrence, with a focus on improving the education outcomes of the Hispanic community. She provides direct legal representation and Spanish language training in education rights to families. Ms. Ramos began her career as a special education advocate and community organizer for parents of children with special needs. Realizing the lack of Latino lawyers focusing on education rights, Ms. Ramos returned to school and earned her law degree. Elected to the Wellesley School Committee, 2012-2015 is currently the Co-Chair of the Department of Education's Special Education Advisory Committee.